In today's digital age, privacy and cybersecurity are more important than ever. Nu er voortdurend persoonlijke informatie online wordt verzameld en gedeeld, is het van belang dat je bewust met je gegevens omgaat en maatregelen neemt om jezelf te beschermen tegen de nieuwsgierige ogen van cybercriminelen en dataverzamelaars. But what exactly do privacy and cybersecurity have to do with each other?
Let's start with privacy. Simply put, this is the freedom to determine how your personal information is collected, used and shared. This could be anything from your name, address to your browsing history to financial information. Nu zoveel van ons leven zich online afspeelt, is het belangrijker dan ooit om te weten wie er allemaal toegang heeft tot je persoonlijke informatie en hoe deze wordt gebruikt.
And then you have cybersecurity. That is protecting digital systems and networks from unauthorized access, use, disclosure, disruption, modification or destruction. Met andere woorden, inspanningen om gevoelige informatie veilig te houden. This includes everything from firewalls and antivirus software to encryption and secure passwords.
Privacy and cybersecurity cannot be separated
So, how do privacy and cybersecurity intersect? The answer is simple: you cannot have one without the other.
Zie het zo: privacy is de voordeur van je huis, en cyberbeveiliging is het slot op die deur. Without a lock, anyone can just come in and take what they want. But with a good lock, you can rest assured that your personal information is safe.
Ultimately, privacy and cybersecurity go hand in hand. We must be aware of the ways in which our personal data is collected and used, and we must take steps to protect ourselves from cyber threats. Het is dus belangrijk om je privacy-instellingen up-to-date te houden en sterke wachtwoorden, authenticatie met twee factoren en andere beveiligingsmaatregelen te gebruiken om je persoonlijke gegevens te beschermen.
Gelukkig heb je niets te verbergen
Privacy does not mean hiding anything, but having control over your personal information and how it is used. Mensen die zeggen dat ze niets te verbergen hebben, zijn zich misschien niet volledig bewust van de hoeveelheid informatie die over hen wordt verzameld en hoe die kan worden gebruikt of misbruikt. Privacy betekent dat je de vrijheid hebt om te beslissen welke informatie je graag wilt delen en met wie, ongeacht of je al dan niet iets "te verbergen" hebt.
Je cyberveiligheid komt in gevaar als je niet goed met je persoonlijke gegevens omgaat. Without proper privacy measures, you are vulnerable to cyber attacks such as identity theft, phishing scams and data breaches. Als je bijvoorbeeld heel je 'hebben en houden' op sociale media deelt, ben je wel een heel makkelijk slachtoffer voor een cybercrimineel.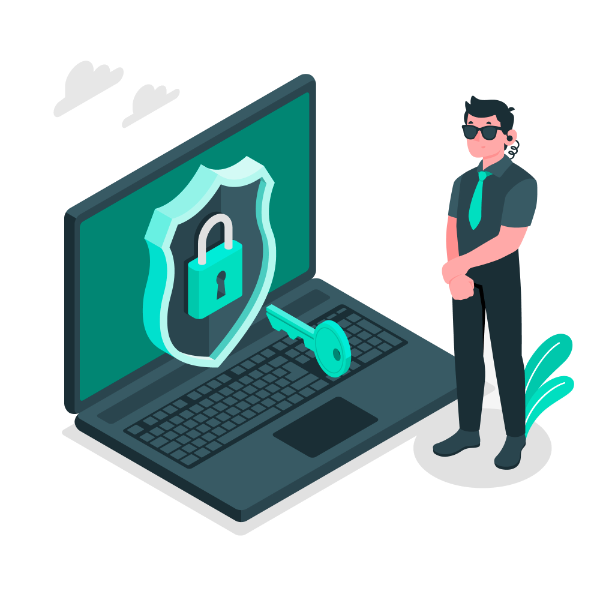 5 tips to protect both privacy and cybersecurity
Use strong, unique passwords for all your accounts and consider using a password manager to keep track of them.
Enable two-factor authentication whenever possible to add an extra layer of security to your accounts.
Keep all your software and operating system up-to-date to ensure security vulnerabilities are fixed as soon as possible.
Watch the information you share online and limit the amount of personal information you post on social media or other public platforms. Take some time to remove some information from your socials.
Use a virtual private network (VPN) when connecting to public Wi-Fi to encrypt your Internet connection and protect your personal information from prying eyes.
Privacy en cybersecurity zijn het dynamische duo van de digitale wereld, die samenwerken om jouw persoonlijke gegevens te beschermen en je te behoeden voor cyberdreigingen. Nor can a Batman do without a Robin. Pak de controle over je persoonlijke informatie en laat de schurken die niet in handen krijgen. Remember: a strong password is your shield, two-factor authentication is your fist, and a VPN is your secret identity, use them wisely and you will be unbeatable!