Surfing the internet safely
A VPN (Virtual Private Network) creates an encrypted connection between your computer (or device) and the Internet. You can think of this encrypted connection as a secure "tunnel" in which, cut off from the outside world, you can access the Internet. It looks like you are surfing from the location of the VPN server you are connected to. A VPN or Virtual Private Network gives you access to the Internet with greater security and privacy. It also allows users to bypass censorship or content restrictions (for example, if you live in China). It is a tool to increase your privacy and security online, but not a panacea.
Surf the Internet without revealing your real IP address and location.
Add an extra level of security by encrypting your Internet connection.
Protect yourself from hackers, especially when using public WiFi connections, such as Internet cafes and hotels.
Protect your private information, such as passwords, credit cards, photos and other personal information when online.
In short: Surf the Internet with less stress.
Is using a VPN Safe?
VPNs are secure to use as long as you use a high-quality VPN service. A free VPN often presents problems or has a revenue model that threatens your security and privacy.
Does a VPN make you completely anonymous?
No, on the Internet you are never 100% anonymous. When you use a VPN connection, your interprovider (ISP) knows you are using VPN service. However, they can no longer see what websites you visit and what data you send. The VPN provider can see the Internet usage if they want to, because after all, your Internet traffic goes through the provider's tunnel. Therefore, use a reliable VPN provider. If anonymity is your main goal, you are better off using the Tor browser.
In addition, there are several ways a person can be de-anonymized online, such as by fingerprinting the browser. This is not where a VPN helps either. Read what you can do to better protect your privacy online in this article.
I see many VPN review sites, always featuring the same VPN providers. Which one should I believe now?
Most product reviews you come across on the Internet are sponsored. This makes it difficult – if not impossible – to know when a review is genuine and when it is a paid review. Remarkably, among these types of sites, you almost never see Mullvad among them (or a little underexposed), because these types of sites don't earn anything from them.
Mullvad is one of the few VPN providers that does not have an affiliate program. This is why we dare to recommend Mullvad.
Best VPN provider - our choice
Mullvad is based in Sweden and operates 360+ servers in more than 30 countries. It is one of the few VPNs that offers a completely anonymous account. You don't have to provide a name, email or even a password. You can pay with cash or bitcoin.
Mullvad is easy and safe to use, and maintains a strict no-logs policy.
Your connection and data are protected with 256-bit AES which is very secure.
Mullvad has apps for macOS, Windows, Fedora and Debian. You can use the OpenVPN or Wireguard configuration files to use Mullvad on iOS, Android, Chromebook, Linux and router and desktop operating systems.
Five connections per account can be made simultaneously, so you can protect all your devices at once.
Subscribe to Mullvad
Signing up for Mullvad is easier than with most VPNs. Instead of entering your e-mail address, payment method and password, just click on "generate account" on the homepage. Mullvad will generate an account code for you that is good for three-hour trial period. You can use this code later (when you have paid) to log in to the website and app.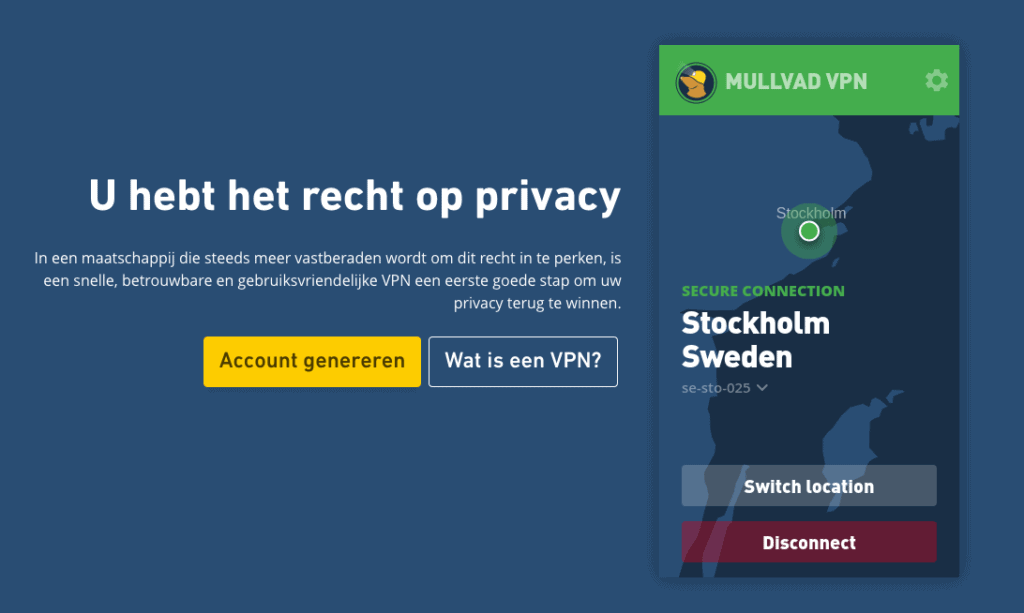 Price Mullvad
Mullvad VPN costs $5 per month. Mullvad does not participate in black friday deals or anything like that. As a result, Mullvad is never the cheapest, but certainly not the most expensive VPN provider either.
Strengths
Quick
Accepts cash and crypto as payment
Relatively Cheap
Easy to use
No-logs policy
Does not require email address
Do not do paid reviews
Simple app including adblocker
Weaknesses
Blocked by some streaming platforms